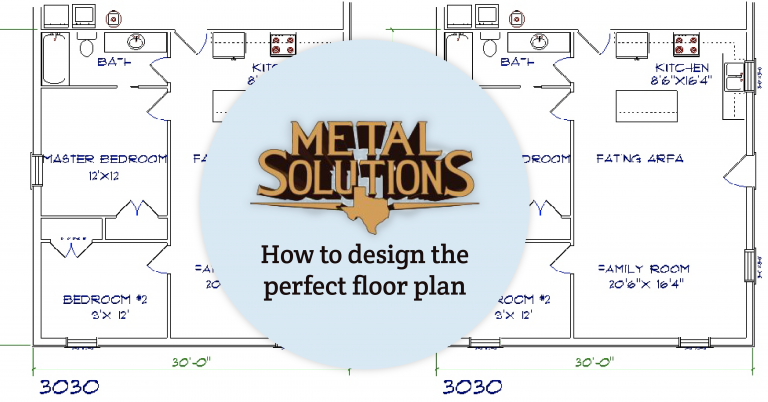 If you know Metal Solutions, you already deal with all things construction. Metal structures, custom homes, commercial buildings, you name it. With all of the projects we do, we specialize in completing projects from start to finish. And the beginning of a project starts well before the dirt work and concrete pour. We work in partnership with our clients to perfect the floor plan and design of a project before we start building. At Metal Solutions, we don't believe in careless designs. Designing a quality and sturdy structure is no easy task, so we do it with care and accuracy every time. Here are some best practices on how we work with our clients to create the perfect floor plan.
Listen to the client
The first thing we do is sit down with a client and listen to what they want. What will the building be used for? If this is a residential project – what is the client's lifestyle? If the client is looking for an industrial warehouse, what is it storing and how much space is needed? During this time, we try to learn as much as possible about what the client is looking for and what purpose the structure will serve. 
Consider the functionality of spaces
After we have learned about what the client wants, we start to consider the functionality of spaces. This includes things like ceiling height and accessibility. What equipment will the space hold and what needs to be able to get in and out of the building? How many people will be in the building and how will they easily move from room to room? At this point, we will start to talk about requirements of the project like type of flooring, type of insulation, windows, doors, and lighting.
Consider Electrical and Plumbing
We will also consider electrical, plumbing, and storage needs of the building. Planning pipes and electrical lines as you go makes the building process smoother and can actually save the client money.  Strategically placing kitchens and bathrooms in a home where the pipes don't have to travel far can be less labor intensive than randomly running them all throughout a home.
Think about how the structure will age
As you design your floor plan, think about how it will meet your needs in the future. If you want children, is there room for a nursery? Could you comfortably have several kids or just one? Do you have space to expand your home-based business? If the project is for a commercial space, is there room for the business to grow? 
At Metal Solutions, we take all of these factors into consideration when working with a client to design the perfect floor plan. We want our clients to be happy with their space not just now, but for years to come. Designing a quality and sturdy structure is no easy task, but by following these best practices, we can ensure that our clients are getting exactly what they need.