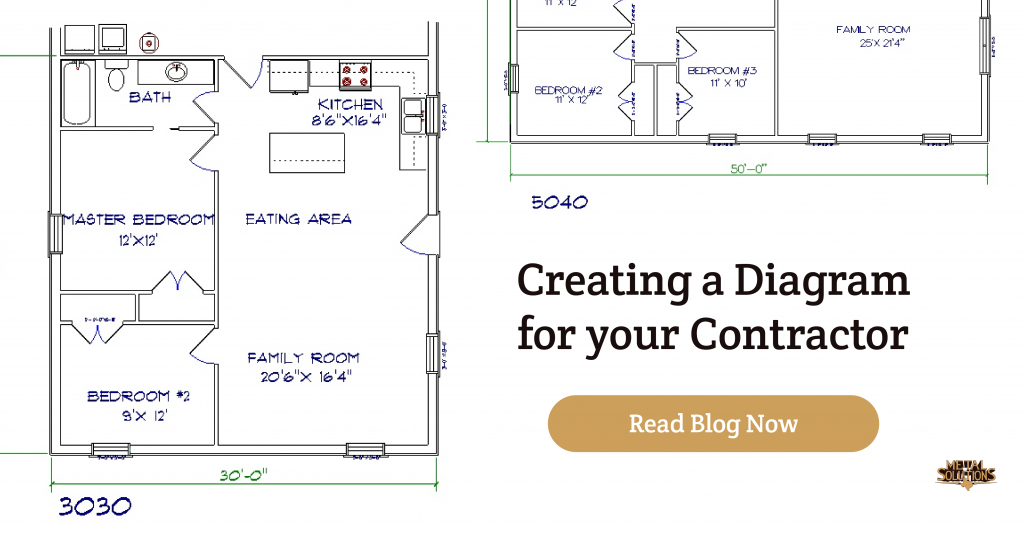 You have an idea in your head for your next construction project, but how do you best communicate your ideas with a contractor?? Our advice is to draw a basic diagram to better communicate your ideas visually. Use these few tips to start building your diagram. While it's unlikely to be flawless, these sketches will assist your contractor in determining what you want. After presenting your home-made diagram, you can work with your contractor to modify the designs and generate a solid blueprint for your project, the first step in making your vision a reality!
Choose your medium
Step one to drawing your project diagram is to choose what you want to work with. Grab a plan piece of paper, graph paper, or even an ipad. If you are feeling confident in your design abilities, you can even use design software or an app to help you. If you are drawing your diagram by hand, be sure to use a pencil so you can erase and edit your design if needed. 
Start with walls
To begin, sketch the outside walls of your planned structure. On the paper, you should roughly center your first-floor plan view in the space. To acquire a sense of how much room on the page your first floor plan will require, measure out how much space you'll have on the page before you start drawing. For floor plan drawings, you'll draw the framed walls and interior and exterior walls. You won't be drawing the complete dimensions of the rooms after drywall or other finished wall surfaces are installed. After you draw the exterior of your structure, proceed to draw the interior walls, doors, windows, and then appliances. Be sure to label each room. 
Create a legend
In your diagram, use a legend or key to depict what each symbol means. Draw a little box in the corner of your diagram which will describe what all of the symbols and abbreviations stand for. Much like a standard blueprint, you can also put any notes in this box as well. Let's go over a few universal symbols that you can incorporate in your drawing to depict different elements of your design.

You will see this shape in the outline of the space and this indicates a door. When it comes to walls, thick lines will show an exterior wall and a triple line will indicate a window.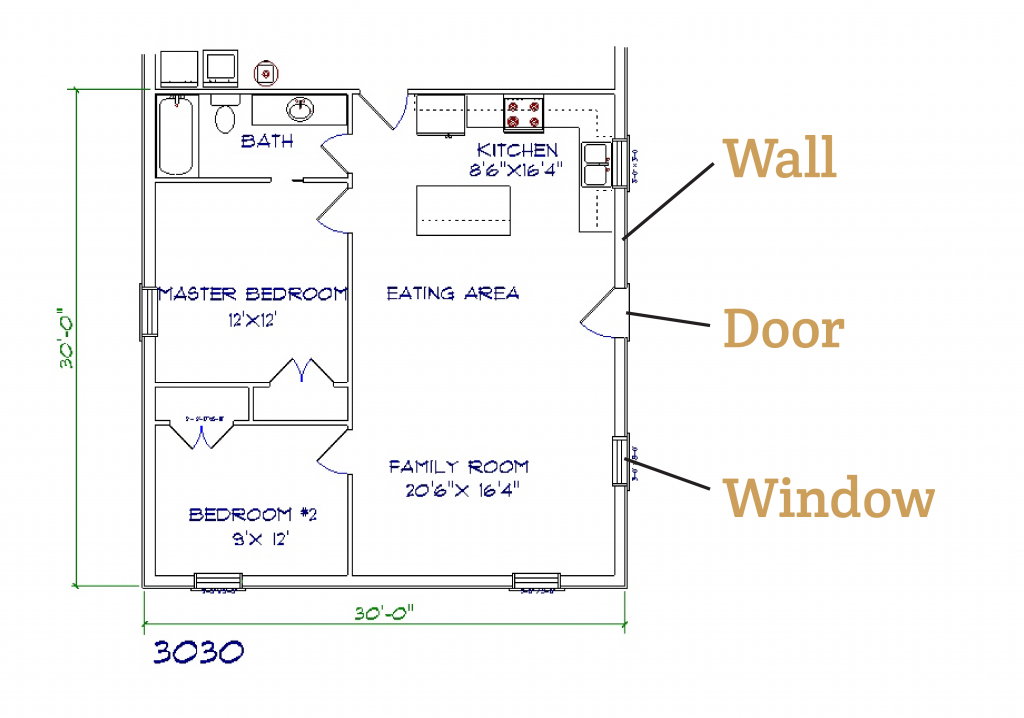 You don't have to be an expert in blueprint symbolism, but as long as you stay consistent in your drawings, your contractor will get the picture.
Draw to scale
If you can, draw your diagram on some graph paper and draw your design to scale to the best of your ability. Typically, blueprints are drawn on a ¼ inch scale. This means that every quarter inch on the plan equals 1 foot of actual length of the structure. You can try drawing with this scale or you can use a different measurement, as long as it's consistent. Not only will this help your contractor picture the scope of the project, but it will also put your dimensions into perspective.
Think critically about proportions
Do your best to think critically about how much space is actually needed for each room in your design. Your contractor will guide you through this but it is best to start with accurate measurements. As you begin your diagram, you will quickly notice if a room size seems 'off' which is why a diagram can be so beneficial to you. For example, if you thought a 10×10 room was large enough for a bedroom, you will quickly learn how small that is when you compare it to a scaled drawing of your whole design.
If you follow these few steps, you should be able to create a diagram of your building. While it probably won't be perfect, these drawings will help your contractor get an idea of what you are looking for. From there, you can collaborate with your contractor to edit the designs and create a solid blueprint for your project, the first step in making your dream building come to life.
Ready to show us what you have? Give us a call today and let's talk about your next build.

Want to see more examples of floor plans? Click here to see some more examples.

(Stay tuned for our new instant quote generator on our website! Creating blueprints or diagrams will be the first step in getting an accurate quote!)