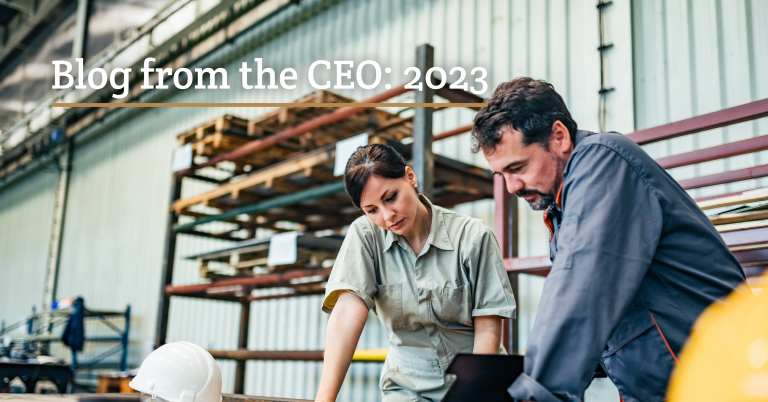 To our valued staff, customers, and partners:
As Tyler and I reflect on 2022, we are excited to enter into 2023 and continue working together to build a better West Texas. We want to thank you for all your hard work, dedication, and commitment towards our shared vision of excellence. Adding value to our community has always been at the core of Metal Solutions, and we're thankful for all those who have helped us get to where we are today.
We are truly grateful for your ongoing loyalty and support, whether you have been with us from the beginning or have just recently joined our family. Our commitment is steadfast: to consistently provide exceptional construction services to the Permian Basin, making you proud of having chosen us as your preferred contractor. Thank you!
We are infinitely thankful for the devoted efforts of our staff that allowed us to accomplish the successes we have seen this past year. Our employees' diligence and remarkable contributions have established a solid foundation, which has led Metal Solutions to where it is today. We deeply appreciate your dedication with all of our hearts!
I remember writing about the importance of goal setting last January, and those words still resonate with me. Even today, I continue to evaluate my past year and set goals for the upcoming one in both my professional and personal life. As a family that strives to empower others, we urge you too to partake in this same thoughtful reflection. Let's make 2023 a year full of success!
Setting your resolutions for the new year can be a breeze if you know how to get started. Take some time to reflect on the previous twelve months and decide what worked and what didn't. Then, set clear intentions that are tailored towards achieving your desired goals this coming year – figure out not only what you want, but also what is absolutely necessary for you to succeed. Once all these steps have been accomplished, it will become evident which direction needs to be taken so that success can be yours!
Start by expressing your goals and finding the right people who will both motivate you and hold you accountable. Share it with someone close to you, such as a friend or spouse, and let us know in the comments! I challenge all of us this year to not only pursue our own objectives but also help someone else achieve success – whether that's a colleague at work or even one of your employees! Let's come together for mutual support so we can push each other forward towards greater triumphs.
Our promise to you is to continue being the trusted contractor of choice for West Texas. Whatever project you want to embark on this year, let us make it happen.
Tyler and I have some huge plans this year – both for Metal Solutions and our family. We certainly plan to reach specific business objectives; however, we are also passionate about teaching our boys some new life skills that will set them up for big opportunities in their futures.   Furthermore, we are planning expansions for 2 of our businesses in the Permian Basin and we cannot wait to open those opportunities up to our community.  
Tyler and I are ecstatic to embark on another year as the presidents of Metal Solutions, and we are eager for our plans to take shape. It is a blessing that we get to collaborate with such incredible personnel and customers like you! Being able to serve the Permian Basin brings us unparalleled happiness. Let's make 2023 even more prosperous than ever before; here's wishing all of us great success in everything your projects require! Cheers!
Sincerely,
Stormy Bradley
Metal Solutions Co-President