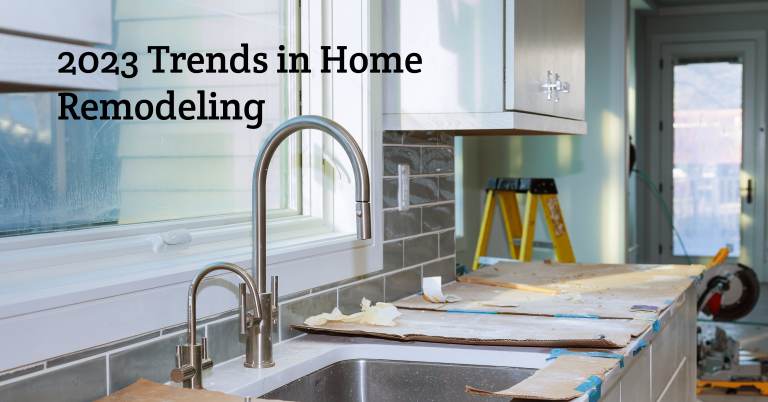 Owning a home is an incredibly rewarding experience, particularly when it comes to making modifications and creating the perfect living space. From renovating bathrooms, installing fences, or replacing plumbing and HVAC systems; these changes can have a major influence on how comfortable you feel at home- not only now but for many years in the future! What's more, trends in interior design are often heavily influenced by that of renovations too.
This year, home remodels and renovations will be all about outdoor living, work-from-home spaces, sanctuary-like atmospheres, technology built into the design of our homes, and decorating with lots of greenery. There is a shift away from minimalistic looks to bolder choices in texture and wallpaper. Homeowners are looking for materials that can stand up to wear and tear while also creating a peaceful atmosphere. So if you're looking to revamp your humble abode this year, why not get ahead of the trend by checking out our top picks! Keep reading to find out more about the remodeling ideas that are poised for popularity in 2023.
Outdoor Living: Transform your outdoor space into a place of joy and relaxation! This year, more homeowners and home builders are devoted to making their outdoor living spaces as inviting and stylish as their indoor areas. Picture it: an outdoor kitchen for grilling up delicious feasts; comfortable seating with built-in fireplaces; cozy furniture pieces that make you never want to go back inside—all these elements can be incorporated into your backyard oasis!
Home Offices: With more people now working from home, creating a comfortable and separate workspace is essential. Built-in storage can help create an orderly look while also adding extra storage space for supplies. You may also want to consider investing in design elements like large built-in desks and storage space to promote productivity in the home office.
Sanctuary Spaces: Stress-relieving spaces in your home can help you feel relaxed and provide a refuge from the hustle and bustle of everyday life. You may want to consider decorating with lots of greenery, soft colors, and neutral tones. Additionally, installing long-lasting materials like steel or natural stone can create an atmosphere that will last for years to come.
Technology in Mind: Let's be honest—we're all on our phones, tablets, and computers more than ever before. No longer are they solely utilized for fun or to keep the kids occupied; rather, they have become essential in the workplace and classroom due to video conferencing applications as well as helping us automate our homes. In every home, office, or commercial space, clients want extra consideration for high-tech compatibility such as pop-out outlets, or lights that can be controlled from a smartphone.
Built-in Storage: Built-in cabinetry and closets can help create a neat, uncluttered look while providing extra storage space. Consider installing pull-out drawers, baskets, or bins in kitchen cabinets and creating customized closet systems that make the most of your space.
Bold Choices: As opposed to the clean, minimalistic looks from previous years, playing with texture, wallpaper, and bolder choices will be popular this year; these can help infuse a room with energy or create an atmosphere that is more inviting and calming.
At the end of the day, it is up to you to decide which trends you want to incorporate into your own home this year. To help get you started, we have compiled a list of ideas that will have your house looking on-trend in no time! Give us a call to find out more about incorporating these trend ideas into a dream space that you will love. We cannot wait to help you create the home or barndominium of your dreams!